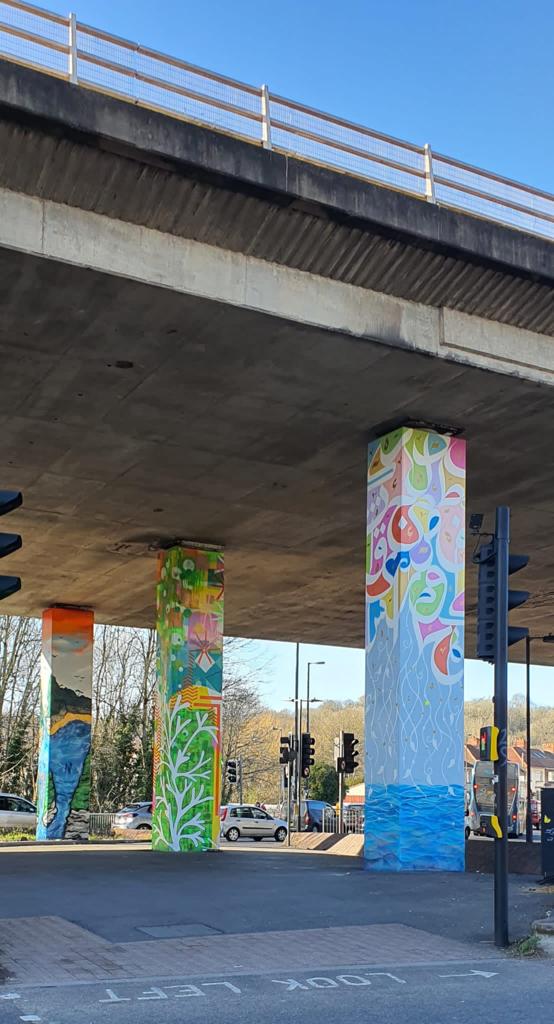 M32 Metamorphosis Murals
In March 2022 LitterARTI supported artists Conrico Steez and Sadie Phew to realise a mural project under the M32 Motorway in Bristol. A local resident had a vision of bringing colour onto the grey pillars and underbelly of the motorway by the Muller Road Roundabout, she started a facebook group and Sadie and Connor applied for funding with the vision to create an outdoor gallery.
They were successful to get £5000 from the Bristol City Council Originators fund and with this confidence in their pocket, got National Highways excited about the project with another £15 000 from their Users and Communities fund to pay towards materials and logistics.
LitterARTI came on board as local organisation to realise this project. Artist and Creative Producer, Annali Grimes worked with Sadie, Connor and members from another artist group, Peace of Art, who are Aumairah Hassan and Manazzar, to develop three designs for the three pillars to be painted based on the themes as decided after community consultation, including nature and the vibrant diverse community living around this area. We focused on the river Frome, which is hidden underneath all the bits of road as an overarching theme in all the works.
One of the designs used inspiration from a scientific research project called Respires about blue spaces. It looks at microscopic single celled organisms called diatoms which are the lowest stage of the food chain in the river Frome and the lake in Eastville Park.
Sadie Phew said: " We want to encourage the community to use the space more by creating an outdoor art gallery and we want to share our love of nature and passion for ecology through our designs. "
Late February 2022 National Highways erected scaffolding towers with support from MJ Church, TR Scaffolding, Tesco and Bristol City Council. Because of the status of the road and health and safety considerations it took a lot of meetings, contracts agreements and risk assessments to make the project happen.
LitterARTI have been working with communities alongside the M32 for over five years, while also running the M32 Flea Market.
For real change to come about, it needs to be driven by the people, with support and in partnership with the authorities. It is positive that the underpass and communities surrounding the motorway are being prioritised just as much as the motorway at the top.
Brightening up and beautifying the area definitely lift the spirits of the local people and improve the space for communities and pedestrians around and along the M32 corridor. Hopefully this is the beginning of more improvements to come in the future.