LitterARTI offers entertaining and engaging interaction with children at festivals, schools and community events. One of the ways we do it is with our scrap musical instruments.
Scrap Percussion Instrument 2022
Our new Scrap Instrument created by Eduardo Allen. Lots of different percussion elements, for curious sound exploration. This can be used for festivals or events. Add to this some hand-made trash instruments and jam together as a percussion orchestra in a workshop. Get in touch to book us.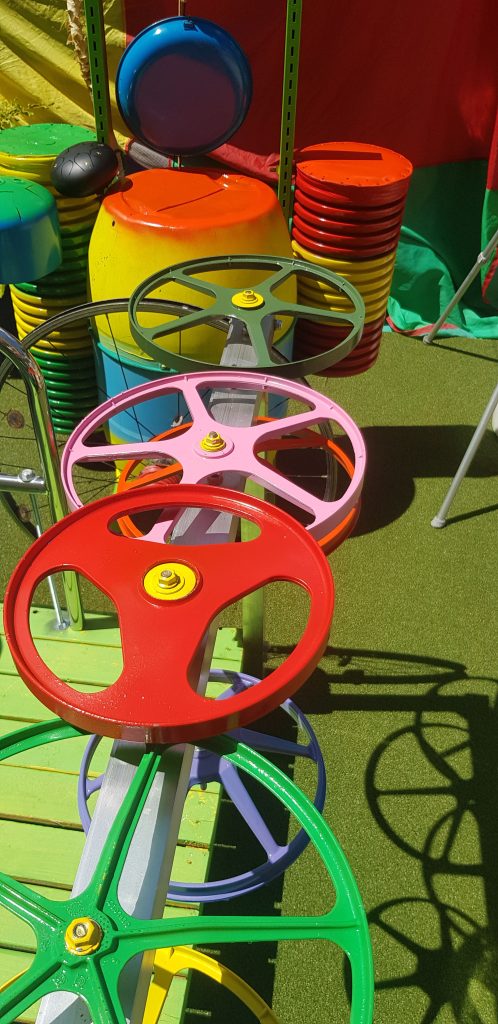 10 year Anniversary of the Green Impact Awards: 2018
LitterARTI was commissioned to curate the 10 Year Anniversary of the Green Impact Awards for Bristol University Sustainability Department in 2018. We created a lit up soundscape in the Wills Memorial Building in Bristol including a "live harmony staircase" with singers from South Gloucestershire and Stroud College; interactive light sculptures; percussion instruments, and a lit up christmas tree. We also designed a light box, as well as the awards which were fabricated at The Factory at Knowle West Media Centre.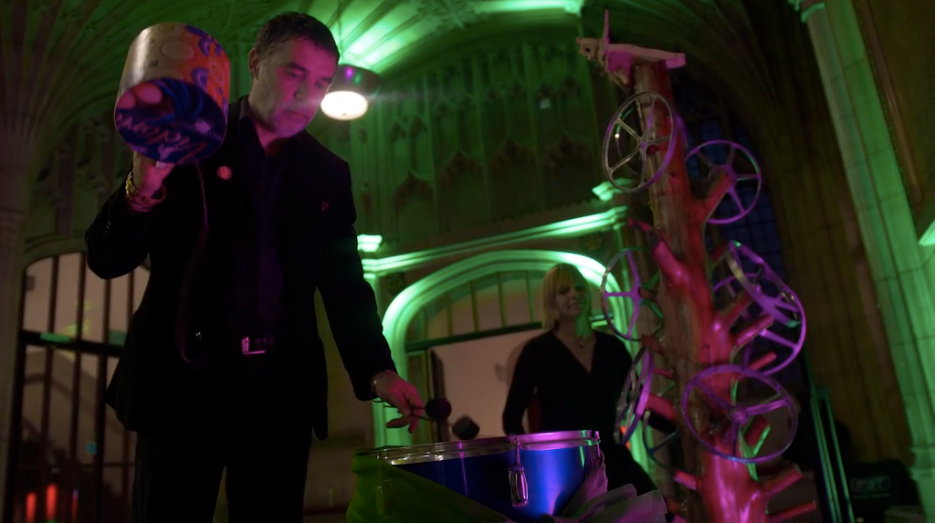 Good Vibrations – Xylophone: 2018
We co-created a Xylophone musical sculpture with the Abbotswood Action Group and young people from 3 different schools in Abbotswood, Yate. This project included the build of a wooden frame supporting stainless steel pipes for the Xylophone and workshops with children creating colourful aluminium tiles for the background making stencils and spraypaint.
See a video of Eduardo playing here: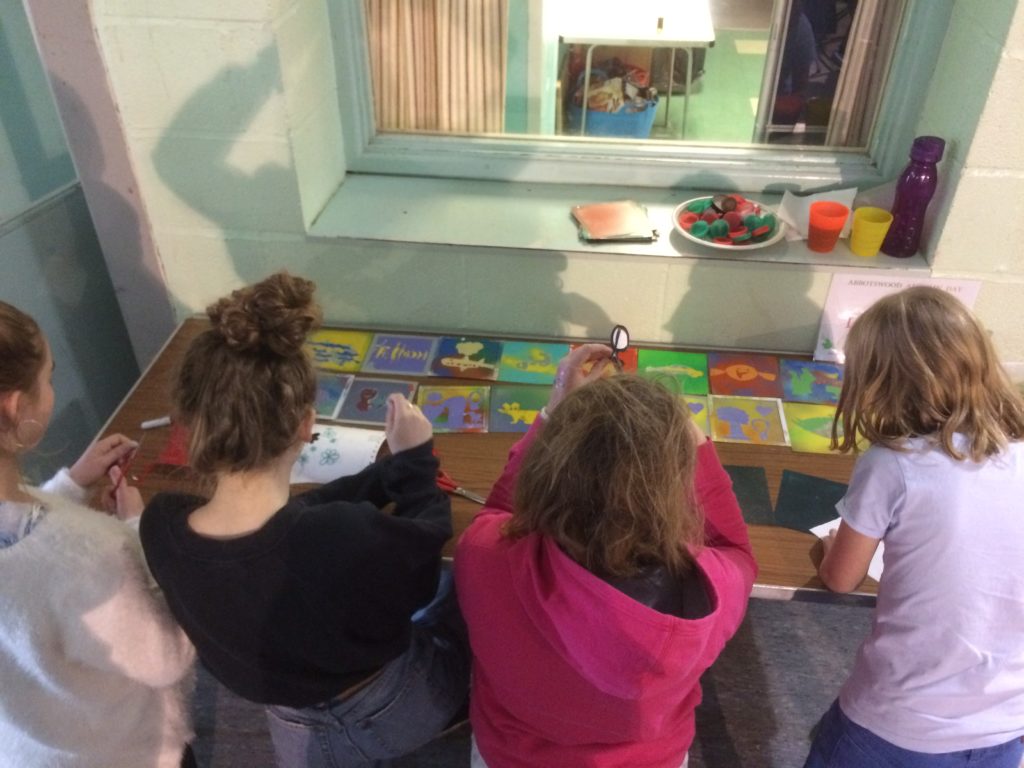 African drumming and mask making workshops: 2017
Working in afterschool and holiday clubs, anchoring community messages through the African Humanist philosophy of UBUNTO: Our identity is shaped through our relationships with others. The workshops had the children creating masks in tribes, swapping their masks when the music stopped. Then playing and performing afterwards.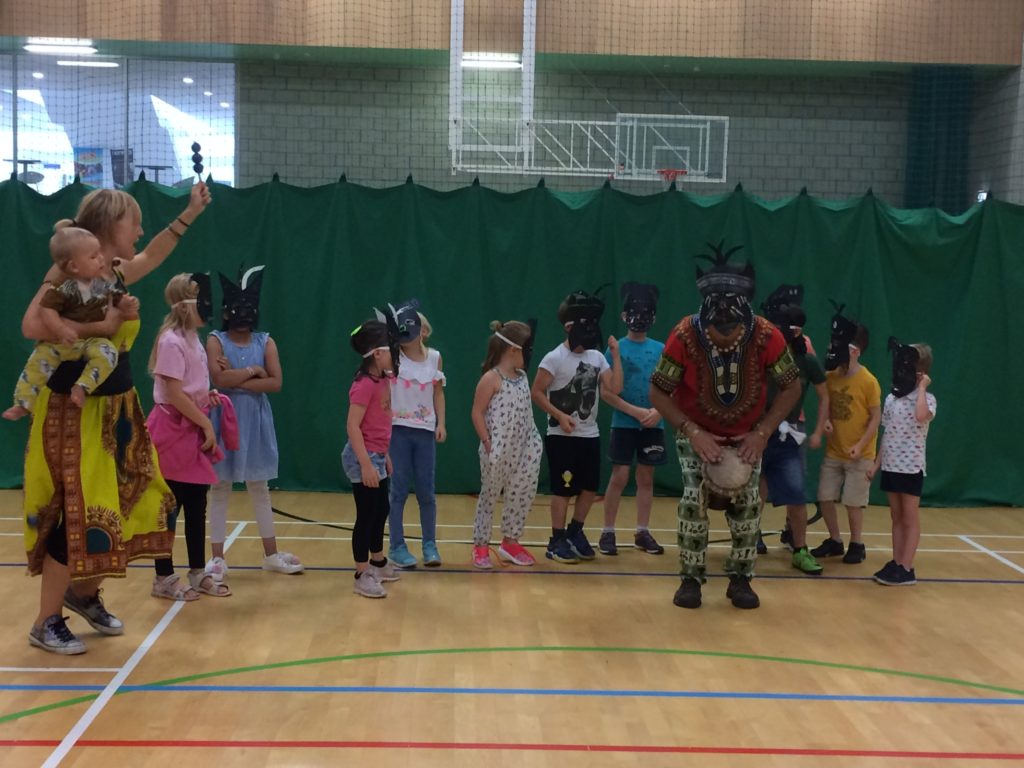 Scrap Metal Instrument on a Pallet: 2016 –
This instrument is made up of found materials creating different percussion sounds built within a frame on a pallet. Great entertainment for children. At festivals we supplement it with drums and play with them to create a percussion orchestra.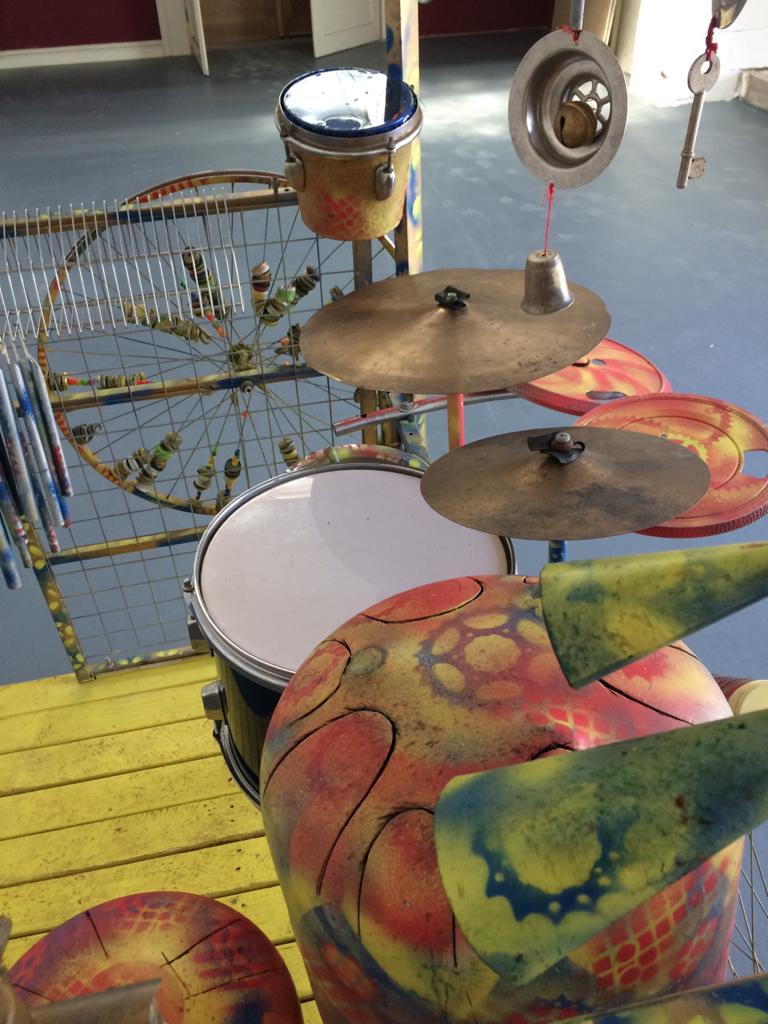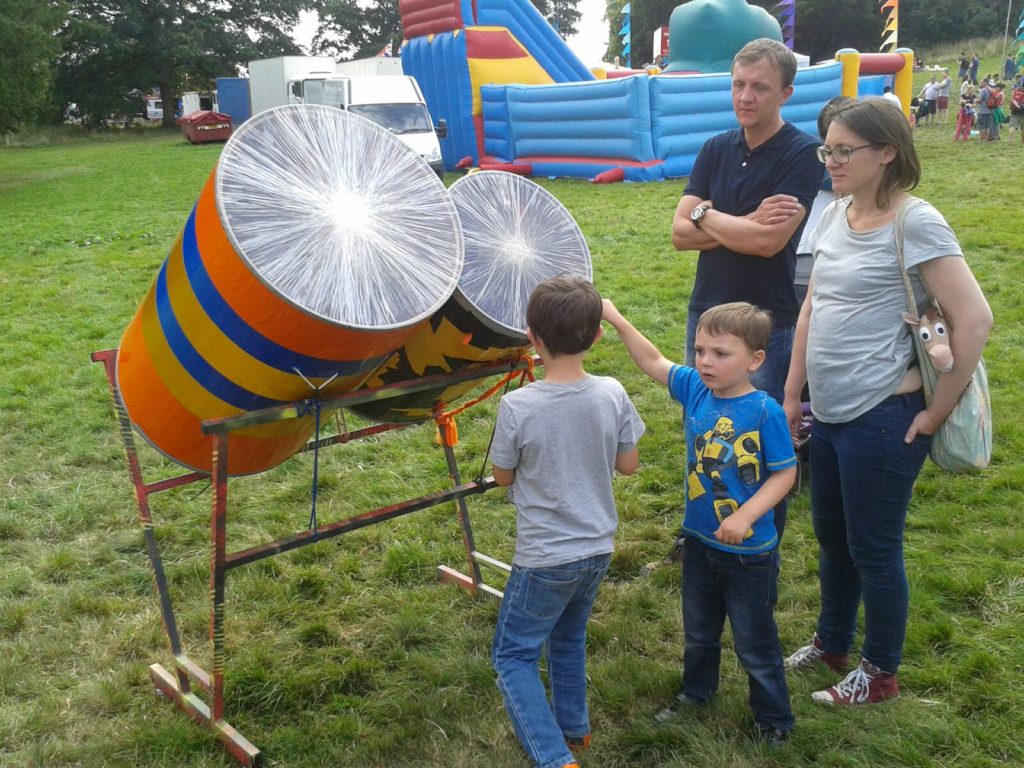 Neptune gets wasted. Plastic Awareness Intervention: Bristol European Green Capital 2015
During European Green Capital 2015, raising awareness in the City Centre with an intervention piece – immersing the Neptune sculpture in and island of trash. Trash percussion with sound system powered by bicycles.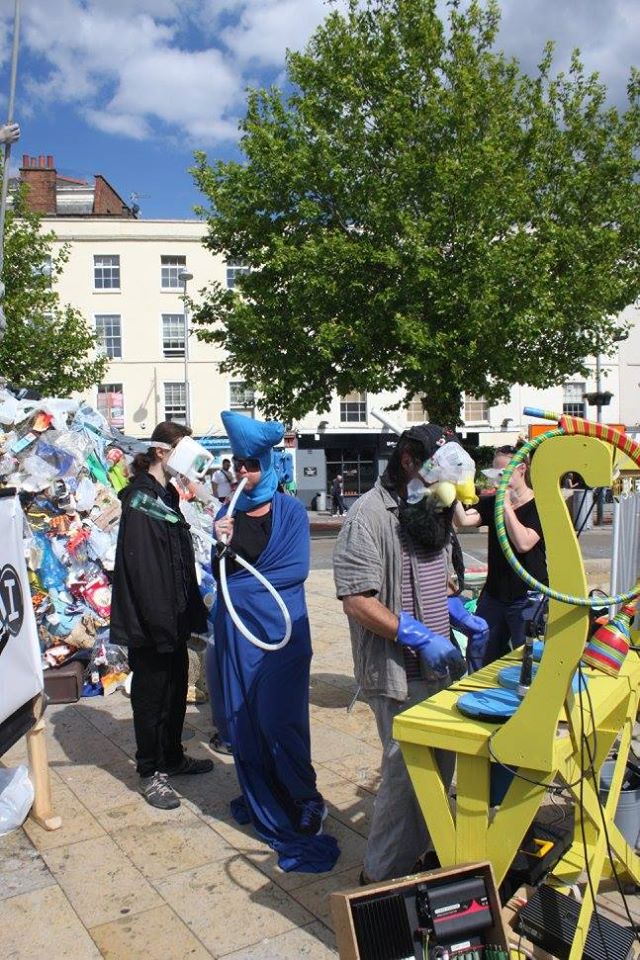 Plastic Awareness at Festivals – Bristol European Green Capital 2015
Immersed under the plastic ocean we made maracas, drums, and sculptures raising awareness about plastics in the ocean. Link to video here: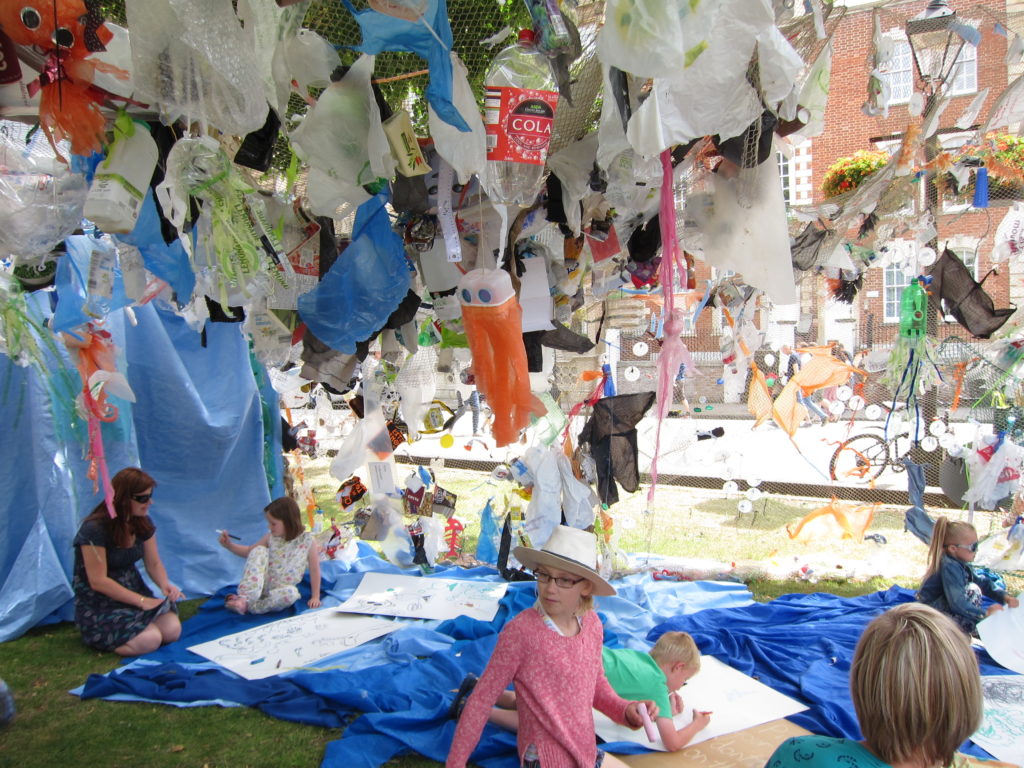 Make some Noise about Litter – With Paper Arts – Bristol European Green Capital 2015
LitterARTI delivered scrap instrument workshops and percussion with schools as part of the 2015 Green Capital Community Art project for Henbury and Southmead "Make some noise about litter", where they created motion sensors in selected litter bins.